You may have heard the term umbrella insurance before, but what is an umbrella policy and how does it fit into the bigger picture when purchasing insurance?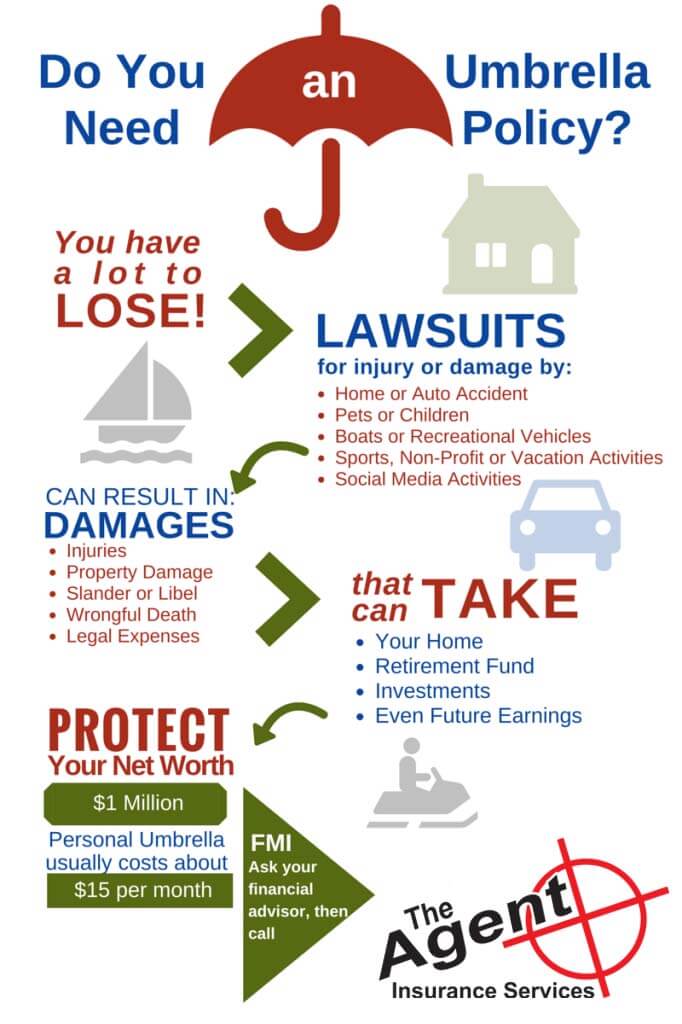 You may have heard the term umbrella insurance before, but what is an umbrella policy and how does it fit into the bigger picture when purchasing insurance?
Think of it as an extra layer of security. An umbrella policy is extra liability coverage that helps cover claims that are larger than the coverage limit on your home or auto policy. It also covers certain liability claims that your home or auto policies don't, such as libel, slander and false imprisonment. An umbrella policy can also cover attorney fees and other charges associated with a lawsuit.
Who needs umbrella coverage?
Say you are responsible for a multiple-car accident and sued for $700,000 in vehicle damage and medical bills. If your auto insurance has a liability limit of $300,000, an umbrella policy would kick in to cover the additional liability costs beyond the limit of your car insurance, saving you from paying $400,000 out of pocket and covering your lawsuit expenses.
It's unlikely you'll end up responsible for this kind of serious accident. But since it's impossible to predict an auto accident or an accident on your property, anyone can benefit from the extra protection provided by umbrella insurance. Those who are exposed to higher risks, have significant savings or engage in dangerous activities usually consider umbrella insurance since they are more susceptible to higher claims or being sued. These higher risks can include:
Owning a trampoline or pool
Owning rental property
A long commute or frequently driving during rush hour
Coaching kids' sports
Owning a dog
Engaging in sports that could injure others (skiing, hunting, etc.)
Even having lower risk doesn't mean you have no risk. An umbrella policy can offer you that extra peace of mind by providing you coverage beyond your regular policy limits.
How much does it cost?
The price of your umbrella policy depends on the amount of coverage you purchase, the state you live in and the risk you represent to the insurance carrier. In general, the more cars, homes or household members your policy covers, the higher your risk and the more you'll pay for your policy.
Compared to the coverage it provides, umbrella insurance may be an affordable investment. According to the Insurance Information Institute, most $1 million policies cost around $150 to $300 per year. Additional millions in coverage will cost an additional $50-75 per year. Bundling an umbrella policy with your auto or home insurance can sometimes be more affordable, so talk to your independent agent to explore your best options.
What should you consider when purchasing umbrella insurance?
Since an umbrella policy pays out after your underlying coverage is exhausted, most insurers will want you to max out the liability limits on your home and auto policies before they will sell you umbrella insurance. This equals about $250,000 of liability insurance on your auto policy and $300,000 of liability insurance on your homeowners' policy. So, while an umbrella policy may be affordable on its own, you'll need to consider any additional premium on your auto or home insurance you'll owe when maxing out your liability first.
Keep in mind there are certain types of liability umbrella policies won't cover.
For example:
Liability sustained in business or professional activities. To cover these types of incidents, consider business liability insurance.
Damage you or a member of your household caused on purpose.
Damage to your property. Since this is a liability policy, it will only cover you if you're held responsible for damage to someone else's property.
While it's unlikely you'll find yourself on the hook for a large settlement or a serious accident, even when we live with the best intentions, accidents can still happen. Umbrella insurance could be the extra coverage you need to help give you peace of mind and protect you from significant financial loss.
This article is for informational and suggestion purposes only. If insurance policy coverage descriptions in this article conflict with the language in the policy, the language in the policy applies. To learn more about home insurance coverage, speak with The Agent Insurance Services (330) 758-3339, to learn more about umbrella coverage.
*Content from Grange Insurance